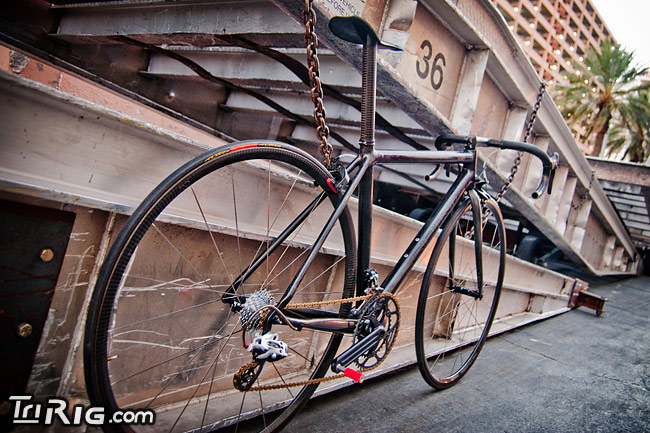 583g.
SPEC LIST:
Full Spec List with links and weights when we could find them. We'll fill in the holes as we find more info (Thanks to the readers for helping us fill in some holes…we'll keep updating):
FRAME: Custom SPIN carbon frame (643g)
FORK: One-off custom THM Scapula SP Tuned(185.9g)
HANDLEBAR: Schmolke custom TLO (111g)
STEM: NoRa CfK by Oliver Grest (54g)
SHIFTERS: Carbon downtube shifters by BTP (9.2g)
REAR DERAILLEUR: modified SRAM Red (~102g)
FRONT DERAILLEUR: modified Campagnolo Record (49.9g)
CRANKSET/BB: Myth prototype including bearings by Rico de Wert (281.4g)
CHAINRINGS: Fibre-Lyte (39T 29g / 53T 43g)
CHAIN:
BRAKE LEVERS: modified Campy Ergo shifter levers to remove shifter parts
BRAKES: AX Lightness Orion Premium w/ BTP race pads and cordz adapters (103.5g)
SEATPOST COLLAR: BTP (2.9g)
SEATPOST/SADDLE: custom one-piece Schmolke TLO/Tune Speedneedle combo (75g)
HUBS: Dash Cycles Monique (F) and Rachelle (R) (129g)
RIMS: custom AX Lightness
SPOKES: Pillar titanium
PEDALS: custom Aerolite, then drilled out (<76g)
CABLES/HOUSING:
OTHER: Foam rubber grip tape
HEADSET: Mostly custom, Extralite and KCNC Morion, but see Fairwheel link below for explanation (18.9g)
Vægt i alt. 2,7 kg.